Best Tips for Pinterest Strategies
Pinterest is a great avenue to utilize to gain organic traffic to your site. As a Search Engine, Pinterest is great at letting your control how you want others to see the image of your site. This is done by creating pins that match the content on your blog or business website.
There are many strategies to market your site with Pinterest that can help your site grow. Many may question how often to pin and who to follow or even when. Below we put together some strategies to help you with Pinterest SEO and maintain your pinning cycles.
Optimizing your Pinterest for SEO


Your Bio Profile:
Complete your bio in the Pinterest Profile.
Use an image in your bio, whether it's a personal or business logo. Business is better for trustworthiness. Be careful when using personal photos on business accounts. It's best to use photos that keep you at a distance. You can also use just a side profile image to not completely give away your identity.
If your account is truly personal, then use caution when using a personal photo. Remember: You do not know those who are viewing you. Protect yourself and your family.
*Be sure to check out Making Sense of Security information and courses to learn more about how to protect your personal data and your business by clicking here. 


Location:
Add your location. Don't be vague. Enter the nearest city with the largest population. Especially if you don't want to pinpoint.
If you are near choices of big cities, it's best to use one in the state you reside in or that is closest. This can be advantageous when you live near cities like Philadelphia, PA, Charlotte, NC, or even Atlanta, GA on the East Coast. 
Naturally, the West Coast has high populations in San Fransisco, CA, Los Angeles, CA, and Seattle, WA.


"About" Description
Take advantage of this space to intrigue your visitors of what makes them need you, your products or your services. This is where you need to make yourself stand out from the sea of other Pinners to capture their attention.
Visit other Pinners' accounts and take note of what catches your eye. Remember, you can always update your profile at any time.


Using KeyWords
Use keywords in your Descriptions. Keywords need to go in a variety of places. These include:
-"About" your Pinterest account description
-Board Descriptions
-Pin Descriptions
Ensure you keep a digital note handy with your keywords to be able to incorporate them often.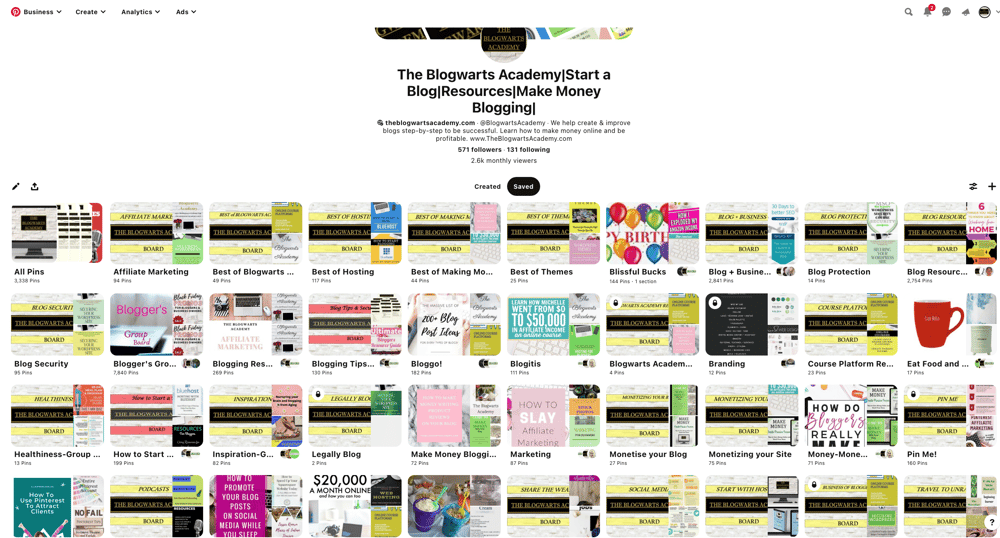 Pinning Cycles
Pin daily. These include creating new pins and repining your own content. This should be approximately 10x daily.
Schedule approximately 30 pins daily through a scheduler. Why do both? Because Pinterest wants to know you are not just scheduling but also checking in to see what relevant content, they are sending you daily.


Come Follow Me
Follow at least 25 new Pinners daily. Pinterest likes to see that you are involved in a community and not just being self-benefitting.


Re-Pin
Pin at least 30 pins from other Pinners' accounts daily. Be nice back.
Repin your original pins to other boards at least 1 once daily. This will help increase impressions and the number of people who see your pins.
We here at The Blogwarts Academy believe in providing helpful information to help strengthen and grow your blog.
These strategies are just a handful of tips to get you started. Feel free to follow us on Pinterest here. We'd love to see what you've Pinned today.